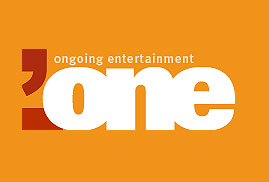 ONE TV
, or rather "
Dubai ONE TV
" recently changed their look. They re-did their adverts, their teasers, their logo and added more style to the rapidly improving channel. I am downright proud to say that the new look is funky and very, very professional. Gone are the
Ch. 33
days that concentrated more on
horse-racing
and '
The Bold & The Beautiful'
, than good entertainment.
The whole '
red comma
' effect is brilliant. The 'Matrix' hit-off of using the '
comma
' as bullets is, more than anything, very professionally done, and downright cool. The whole trampoline and ribbon effect with the comma's and the 3-note ONE TV tune is quite awesome too, both looks-wise and brain-wise. Don't know what I am talking about? Check out the 'One TV' fillers - "ongoing entertainment" indeed.
And the channel is not just superficially efficient. They've bought rights for '
Desperate Housewives
' and air a brilliant plethora of fascinating programs. Even though the addition of '
Desperate Housewives
' was done a year later here than in the rest of the world,
ONE TV
succeeds in giving a holistic combination of entertainment to satisfy all needs, and what's even more worthy of a mention is that, these guys at
ONE
seem
desperate
to do better, and that's always good sign, ain't it?
The reason for this post - I was highly impressed by
ONE
, and maybe I really enjoyed today's
'Friends
' episode aired on it. But none the less,
ONE TV
kicks
MBC 4
's ass, right now at least. As for the other Middle East channels, they are pretty poor in comparison, and have a lot to catch up on. Learn from the '
one
' and the only pride-earner!
P.S.
I
am in no way affiliated to

ONE TV

, and in no way is this some publicity effort for them. My appreciation is genuine. And to add, even their website is brilliant.